A REMOTE CONTROL AND TURN YOUR HOME INTO A SMART HOME
AUTOMATION AND HOME AUTOMATION
EQUIP YOUR FACILITIES WITH AN INTELLIGENT CLIMATE CONTROL SYSTEM TO SAVE ON YOUR BILL OR AUTOMATE FUNCTIONS THAT EASIER USE AND PREVENT ACCIDENTS
Provide your facilities with an intelligent climate control system to save on your bill or automate functions that facilitate its use and prevent accidents
WHY MOTORIZE YOUR INSTALLATION?
Are you thinking of installing an awning on your terrace? A new enclosure? Blinds or curtains? Come up with an automated solution right away! Do you have a crank-operated awning at home? No need to change it, most awnings can be motorized after installation.

No more difficult to operate cranks. Our automatic installations can be easily operated with a remote control, tablet or smartphone. They go down to the height you want in a few seconds to provide you with the ideal shade or sunlight in any room and place.
AUTOMATION WITH MOTORS
COMPLETE HOME AUTOMATION INSTALLATION
EXTEND THE LIFE OF YOUR INSTALLATION
CHANGE OF OLD OPENING AND CLOSING SYSTEMS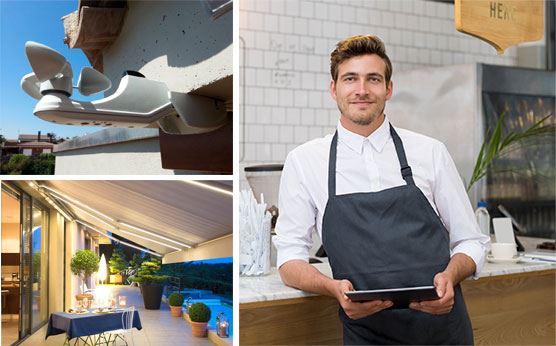 Protect your business from accidents and unnecessary cost overruns. Add automation as weather control components to your outdoor facilities and avoid accidents due to wear, friction or unnecessary stress.

You can also install smart led lighting solutions to create new spaces and environments in your business.
Tolder joins Somfy as a leader in automation and home automation systems to provide the best solution to its customers.

A motorized terrace awning with radio technology, gives a touch of ingenuity to your home! From the first basic installation, it is very easy to add functions: the home automation system to control your home, centralization, ...

THE BEST THAT TECHNOLOGY CAN OFFER
Somfy electric motors are equipped with the latest and exclusive technology: io-homecontrol®.
These motors are even safer with their highly reliable radio technology.
They exchange information so you can control what happens without having to move.
This technology is shared by the main brands in the sector for maximum compatibility.
THE GUARANTEE OF AN INTERNATIONAL BRAND
Compliance with the strictest safety standards on the market.
Products designed in France at a leading innovation Research and Development center.
Products tested and inspected following the most rigorous criteria to guarantee quality, performance and longevity.

Free hotline 900 20 68 68: a team of advisers to answer all your questions. Somfy.es: a section for inquiries at all times.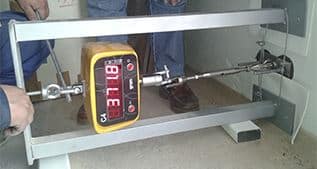 In the more than 80 years that Tolder has been manufacturing his products, he has been able to test numerous materials and verify their quality before incorporating them into his projects. Our DNA is innovation and research, thus ensuring the final quality.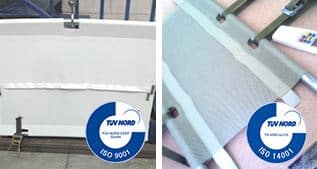 Our stress and break tests allow us to apply only the best materials and create new manufacturing techniques that meet the most demanding certification requirements on the market.